Capitana, Quartu Sant'Elena (CA)
ABOUT US
Spectacular villa on the sea in Capitana, Cagliari
On the picturesque coastal road that leads to Villasimius is the beach of Marina di Capitana, the narrow beach characterized by a sea with a sandy and very clear bottom. Around it, the hills covered with poplars, tamarisk and eucalyptus. Here is the exclusive villa with pool and direct access to the sea. Distributed on 3 levels, with exposed beams on the ceiling, the villa has 5 double bedrooms, 2 of which have en suite bathrooms, 2 more bathrooms and 1 service, kitchen equipped with all utensils, large living room with fireplace with firewood, laundry room, 4 parking spaces, large shaded patio, grill, solarium with ocean view and to enjoy an impressive view in which there is a freshwater and heated Jacuzzi with 5 hydromassage stations. The salt water pool is equipped with a true wellness field with 3 different hydromassage stations. Wifi and air conditioning are present throughout the house. The villa is a 25-minute drive from Cagliari-Elmas Airport and 20 minutes from Cagliari city center.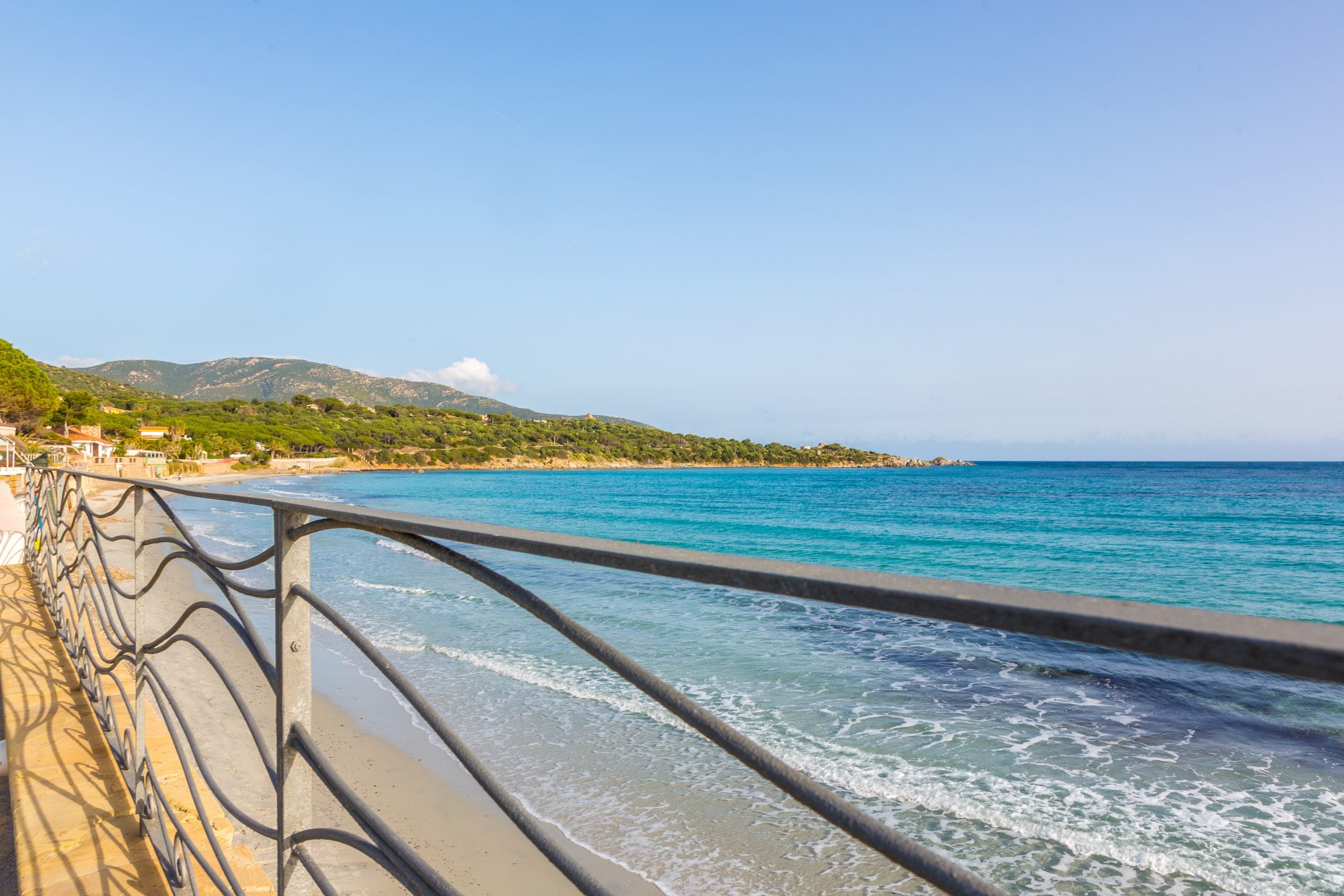 Panorama of one of the most beautiful seas in the world.
Marco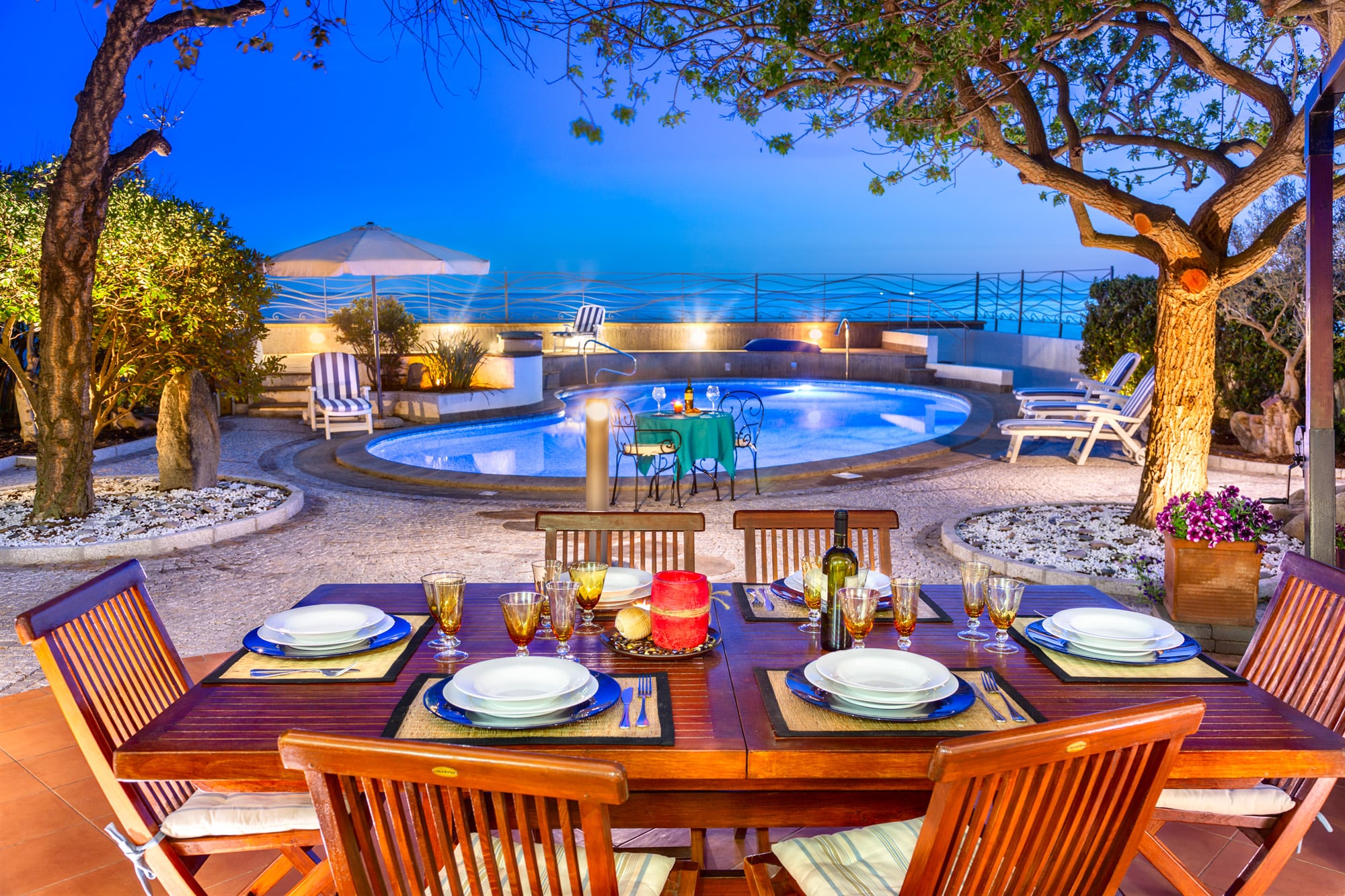 DISCOVER THE
ENVIRONMENTS
The interior and exterior of the villa where attention to detail is synonymous with relaxation for an unforgettable vacation.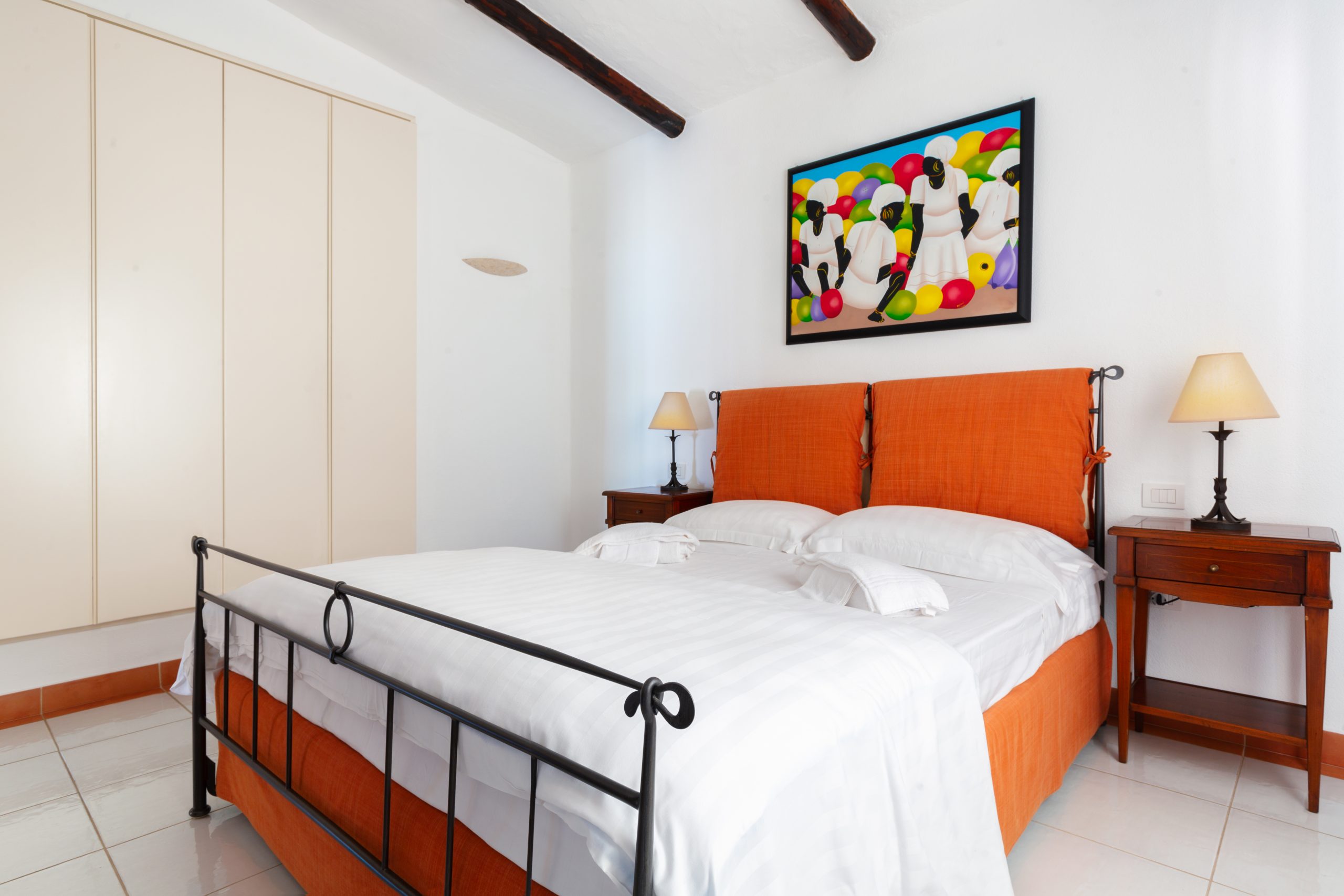 Large Suite
Large double bedroom with air conditioning, private bathroom and safe.
Bathroom in bedroom
Double bed

Towels, slippers, bath set

Hair dryer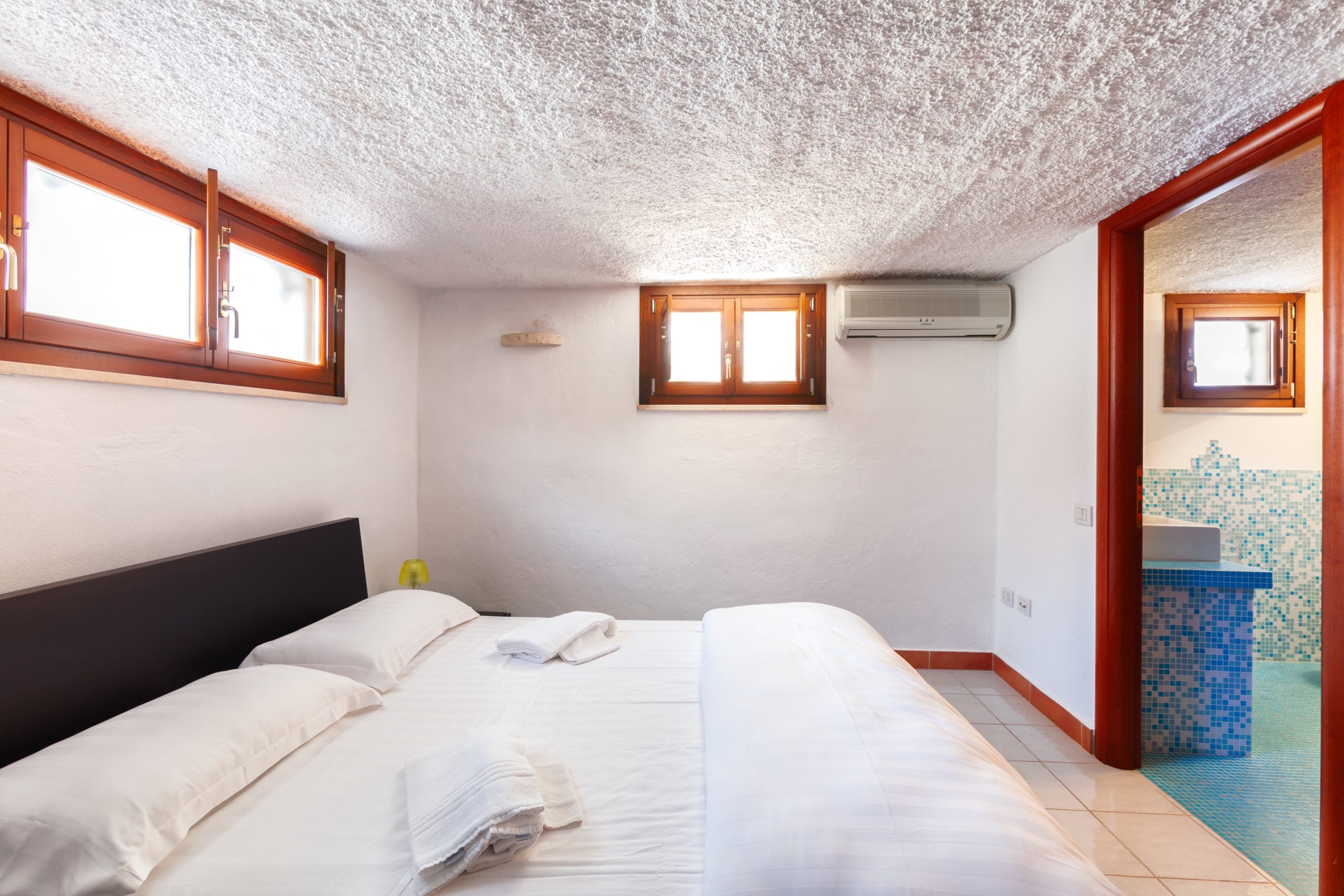 Large Suite
Double room with private bathroom and air conditioning.
Bathroom in bedroom
Double bed
Towels, slippers, bath set
Hair dryer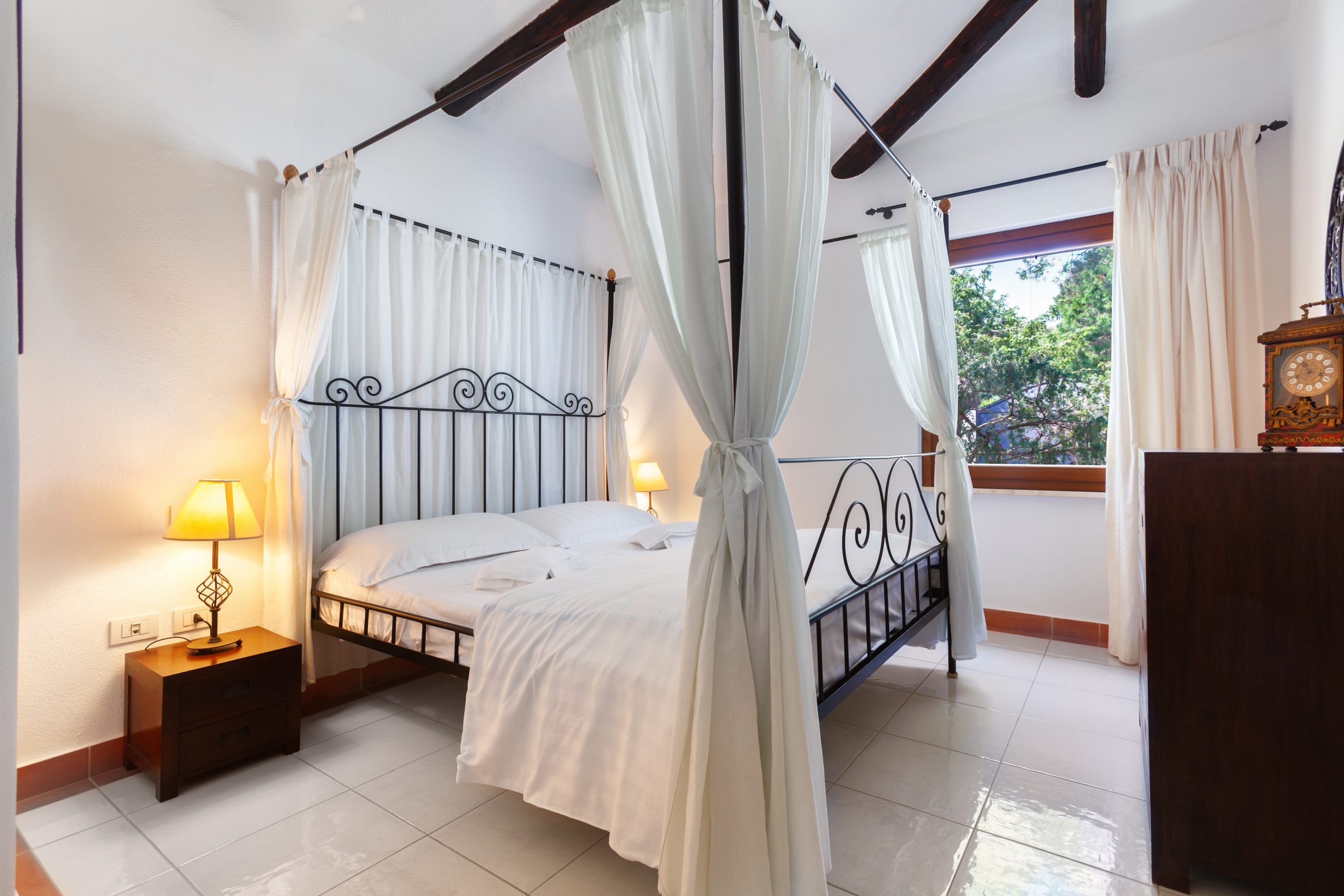 Double Room
Double room with air conditioning.
Private bathroom
Double bed
Towels, slippers, bath set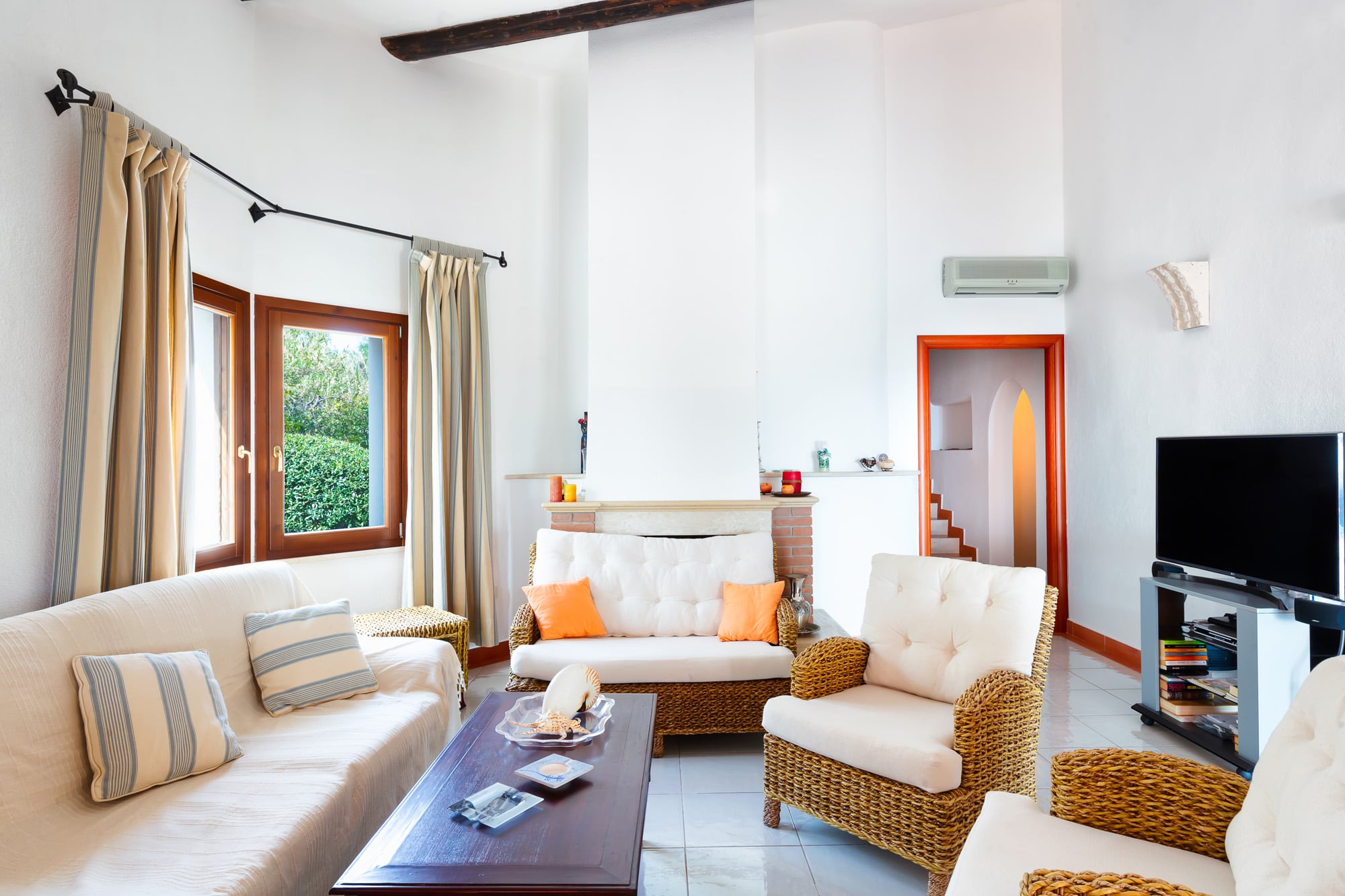 Room
Large living room with satellite TV and exposed beams on the ceiling.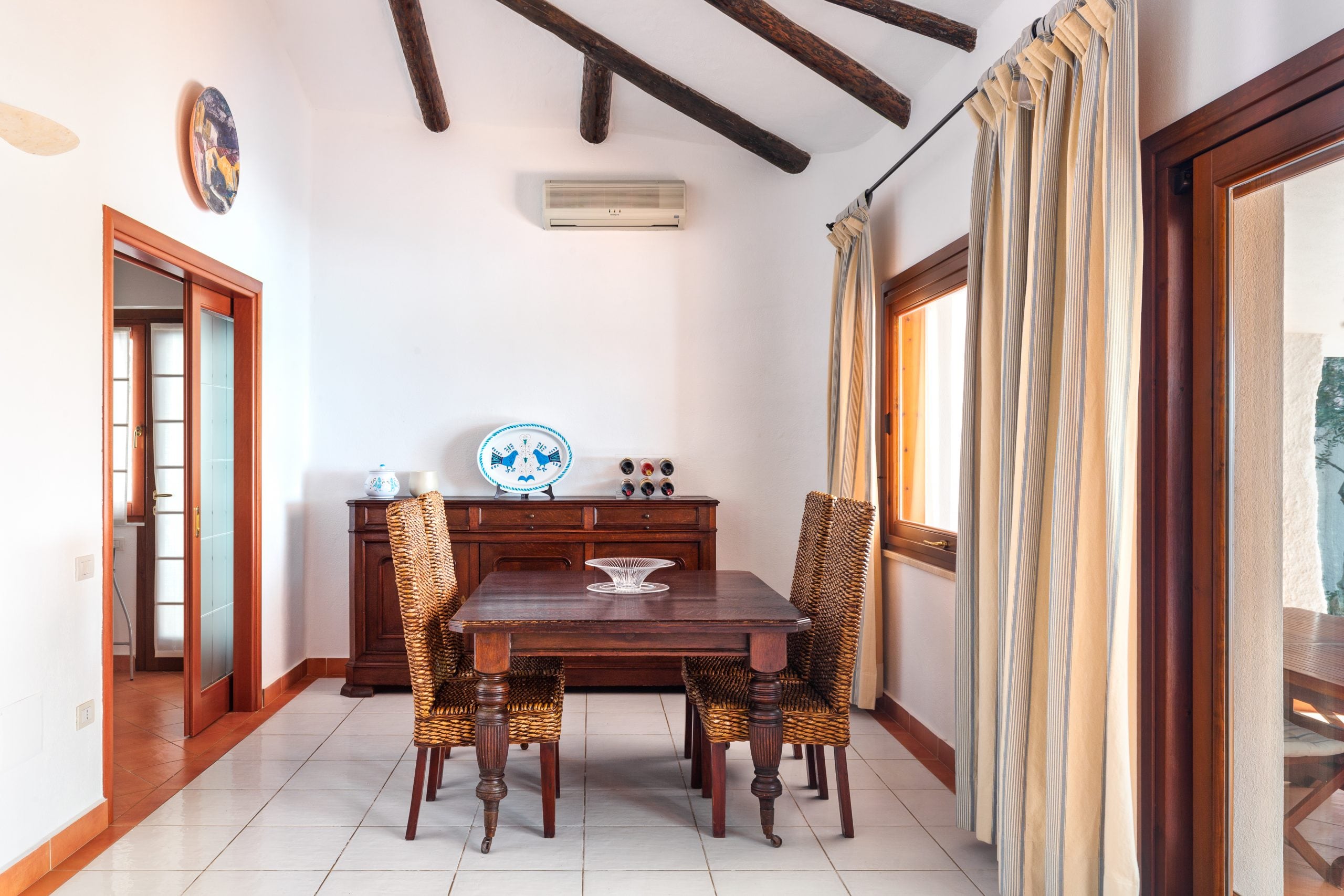 Dinning room
Dining room equipped with an extendable table with capacity for 10 people.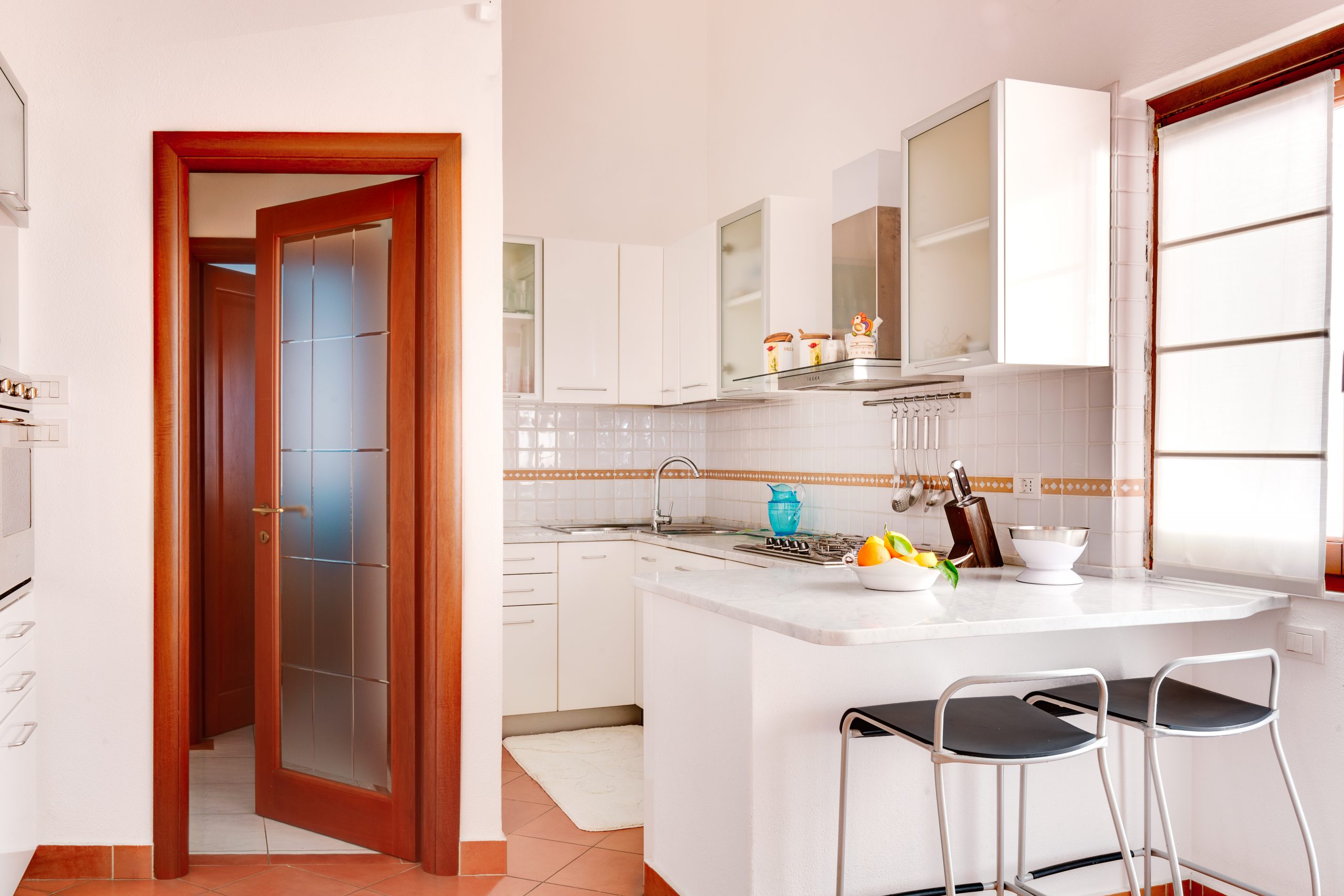 Kitchen
Large kitchen equipped with all appliances.
Nespresso coffee machine
Teapot
Toaster
Ice machine
Dishwasher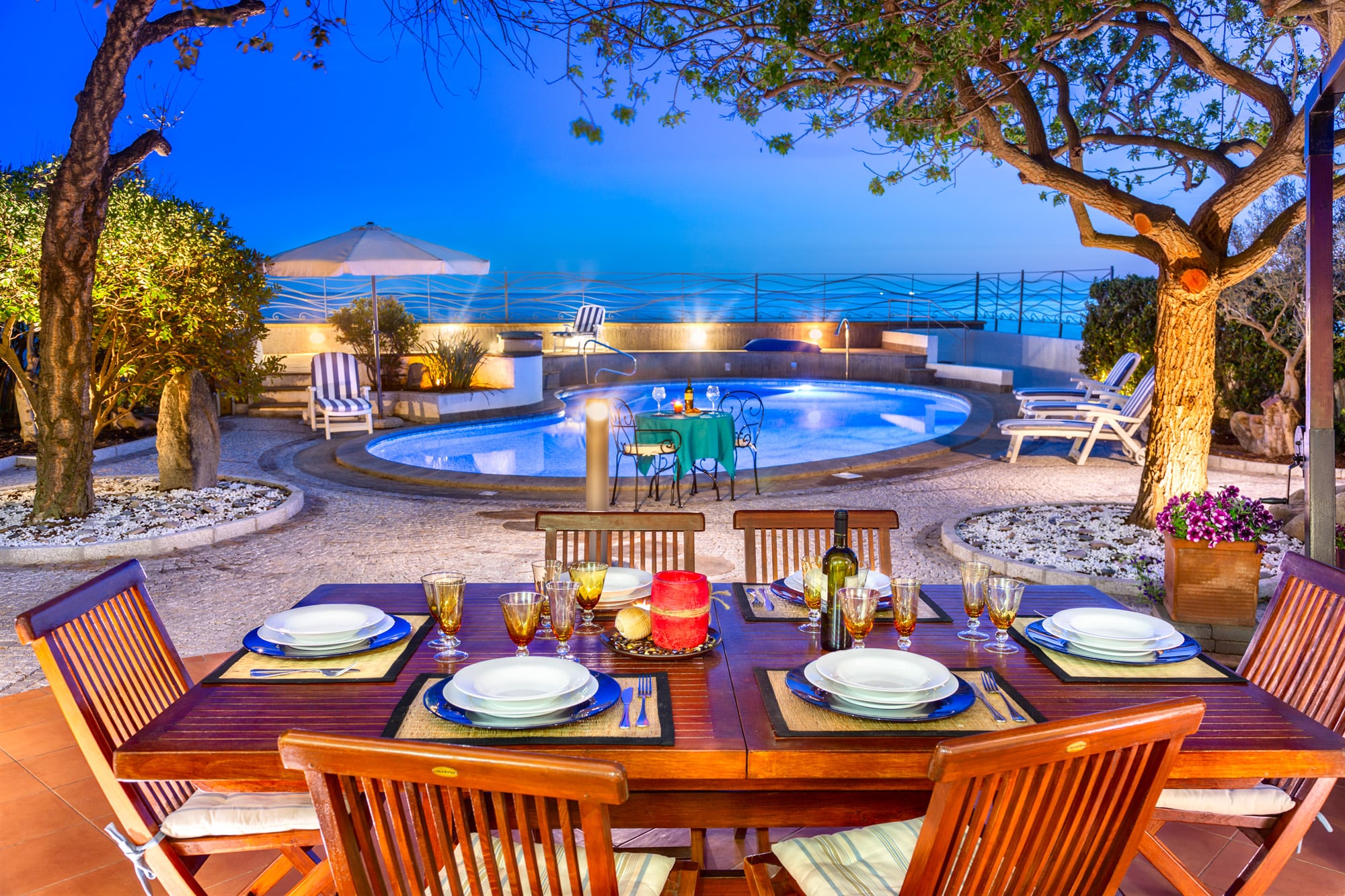 Patio
Outdoor table for 12 people with views of the pool and the sea.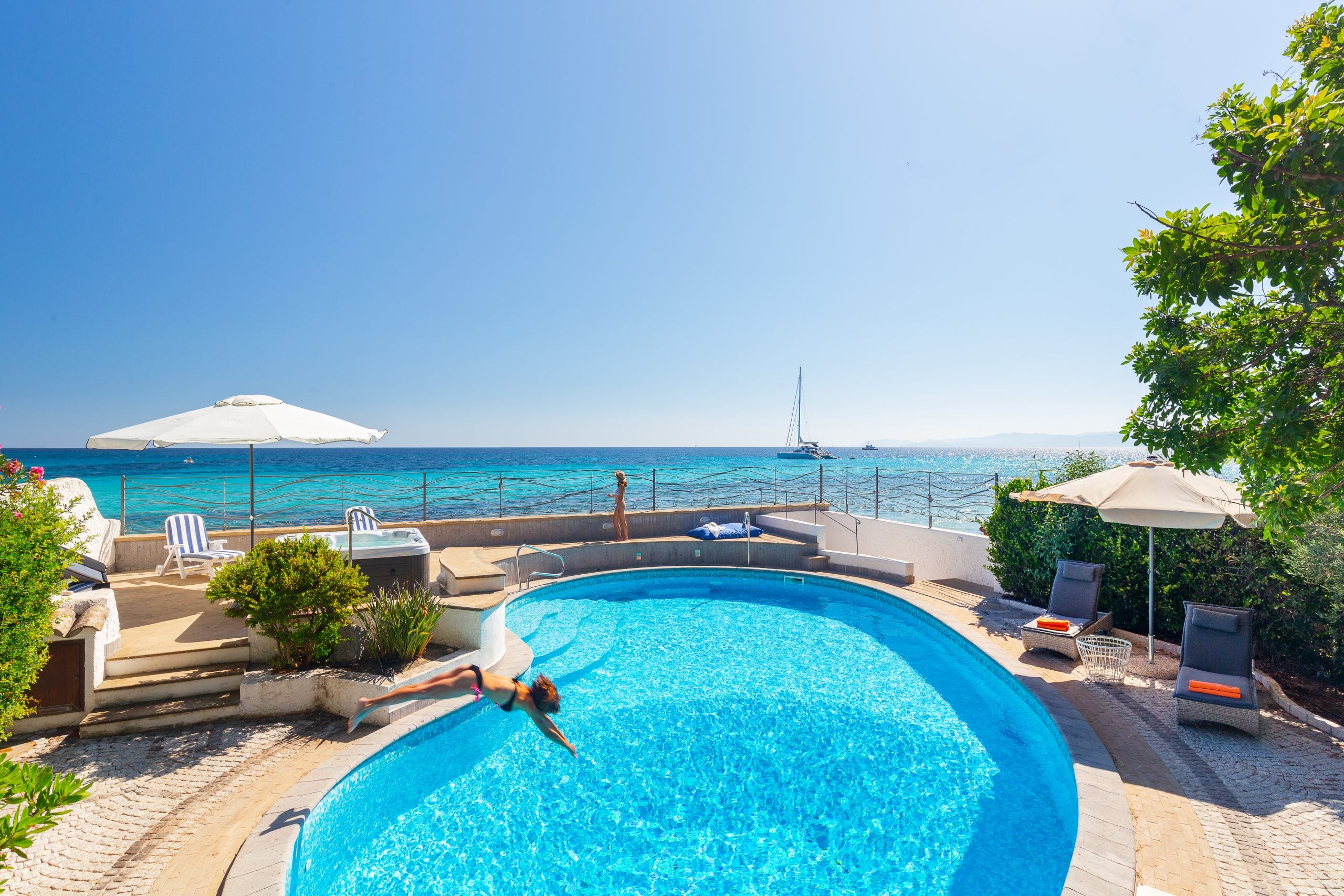 Pool
Saltwater pool with wellness program consisting of 3 hydromassage stations.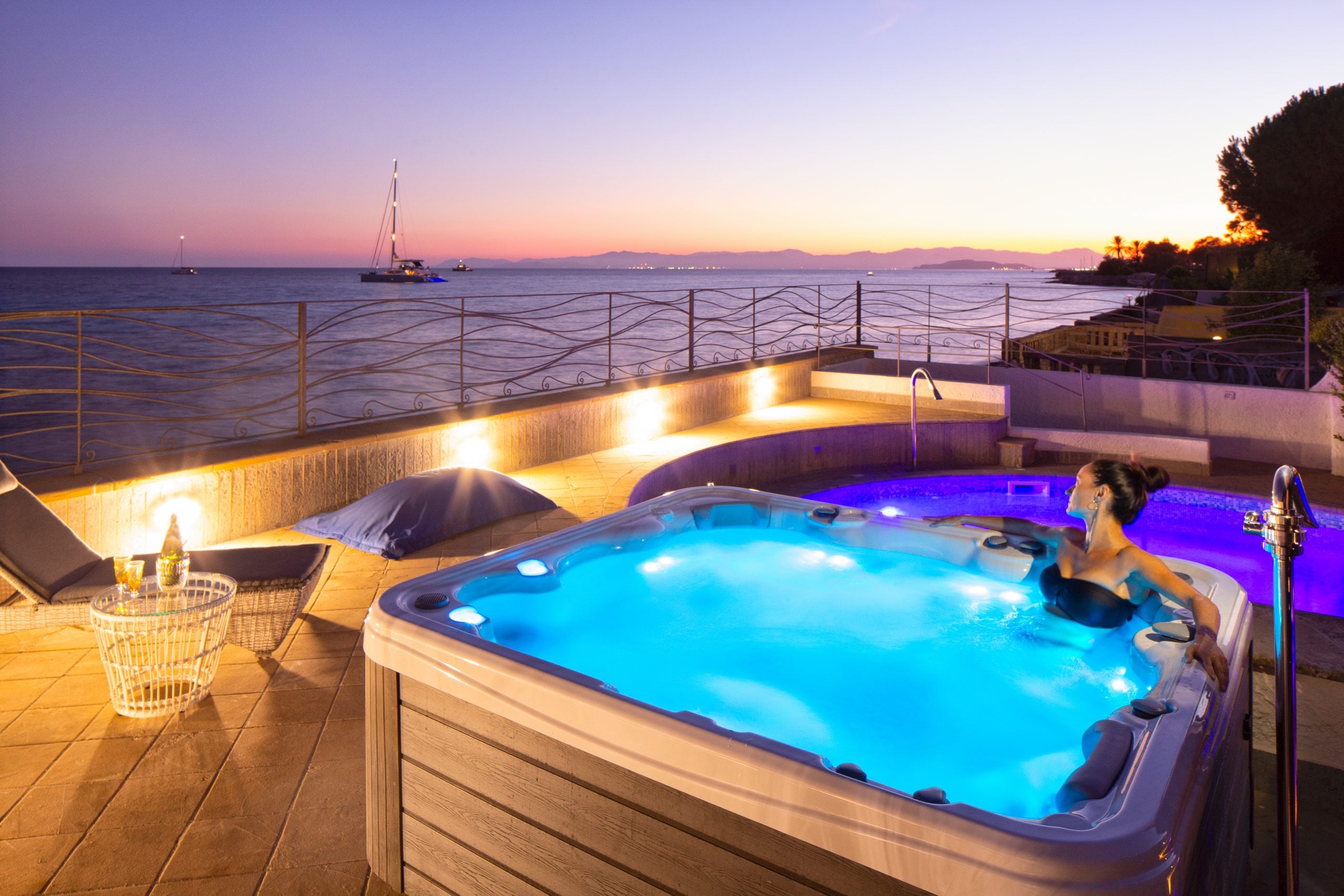 SPA
Fresh water hydromassage with 5 stations and with bluethoot system.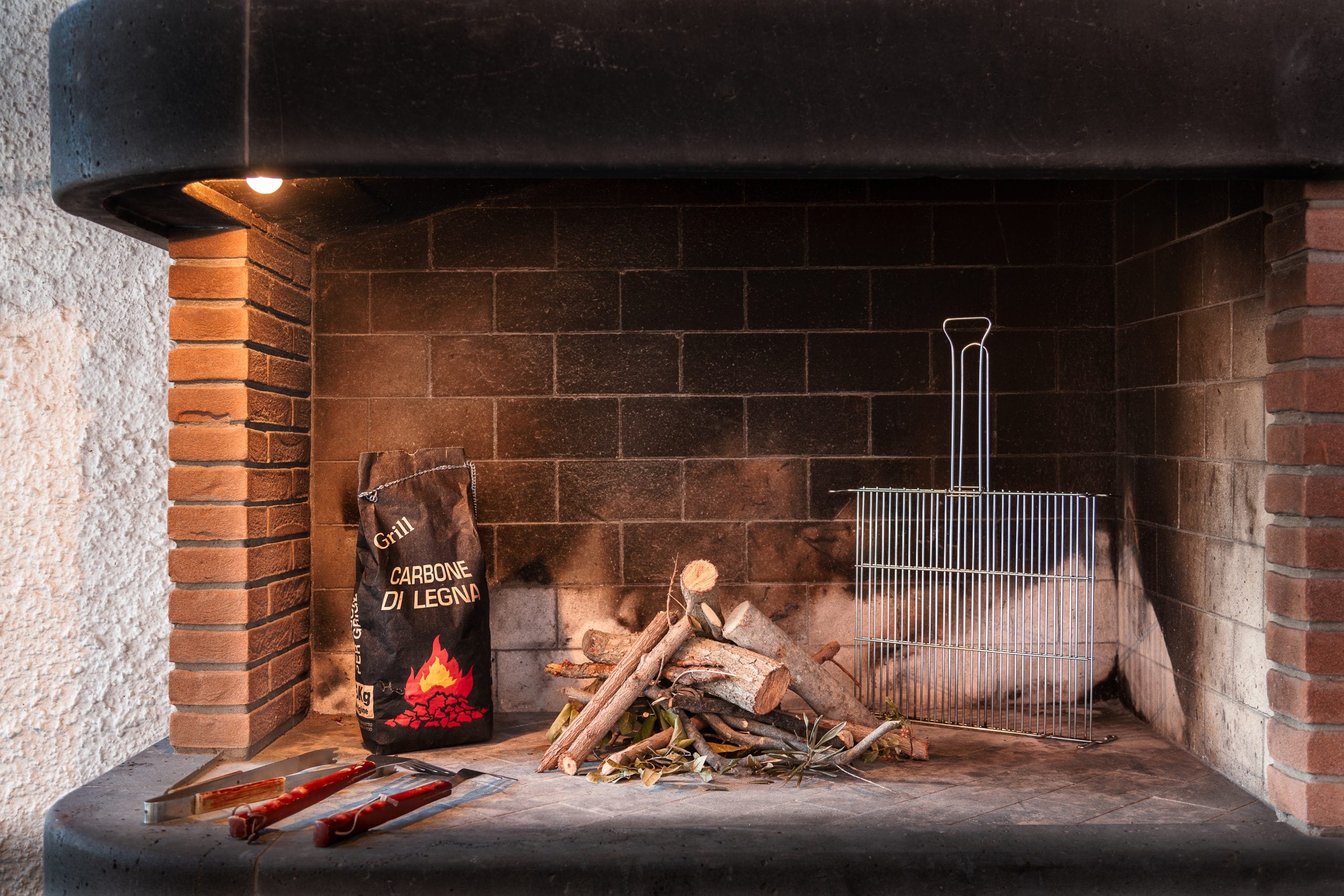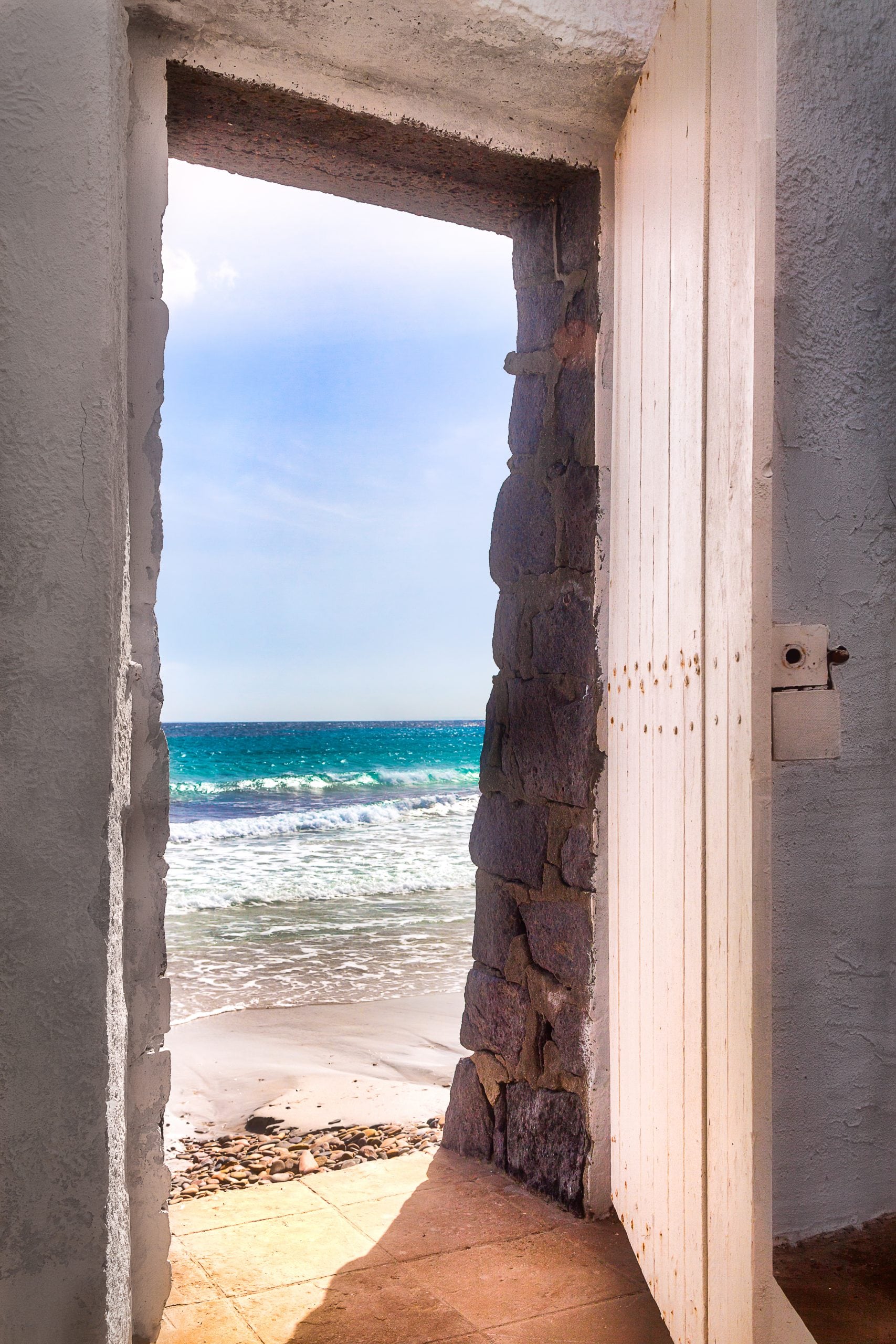 La Porta sul mare
The sea gate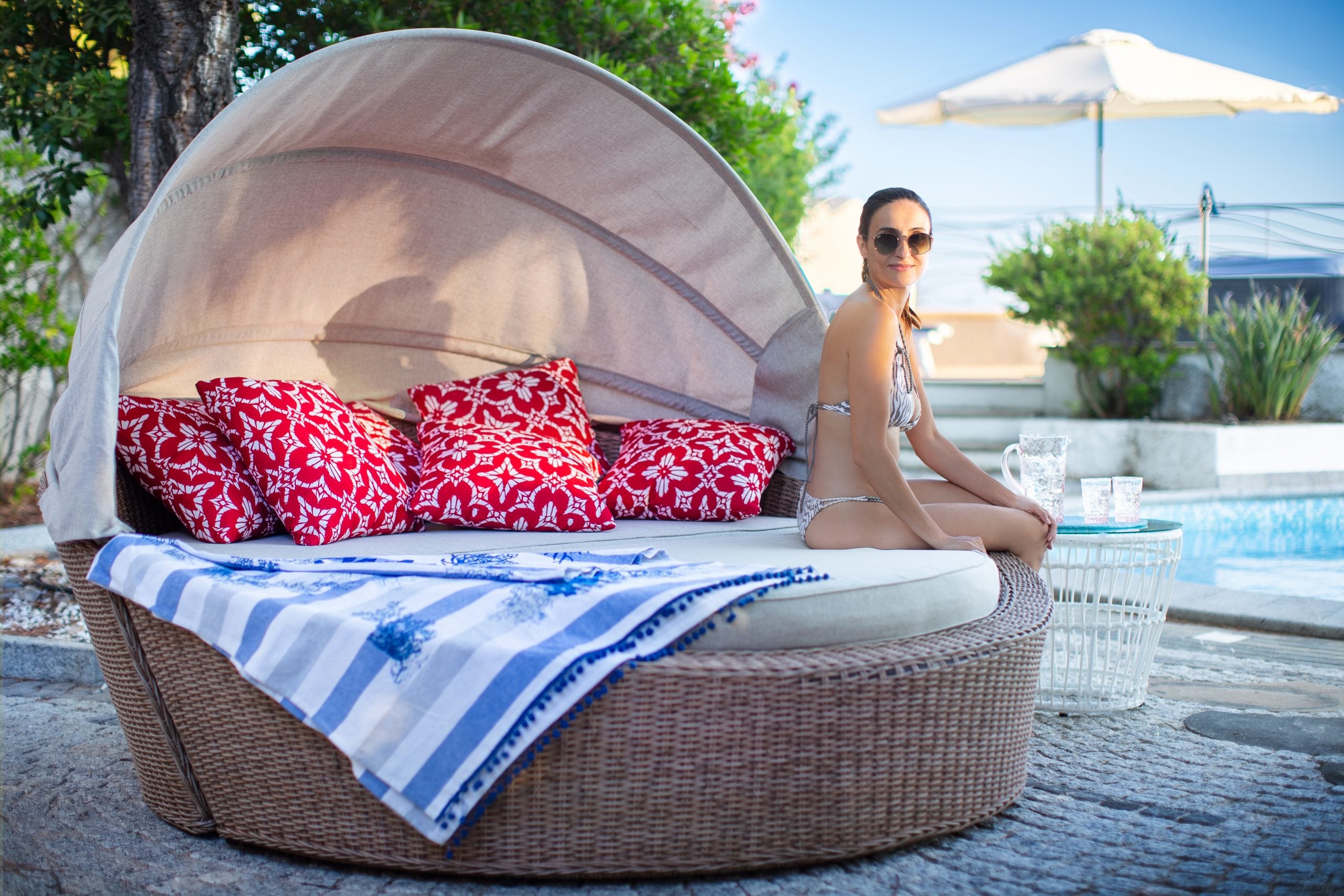 Free WiFi
Wifi throughout the house
Private parking
Private parking in the villa for 4 cars.
Air conditioner
Air conditioning in all bedrooms.
Bathroom set
Bathroom set consistingof towels, shampoo, shower gel, slippers for each guest.
Hair dryer
Hair dryer ineach bathroom.
Laundry
Large laundryroom whit washing machine, iron and ironing board.
Studio
Roomwhit a glass table where youcan work on the computer.
Coffee Maker
Nespresso coffee machine.
Pool
Large private pool whit 3 hydromassage stations.
SPA
Hot water hydromassage bathtub whit integrated bluetooth system.
Charging station
Charging station for charging mibile phones, tablets and apple watch. 
Smart TV
Smart Tv whit satellite decoder and pay tv.
House Kepping
Possibility of daily cleaning. Paid service. 
Private chef
Organization of lunches or dinners whit a private chef. Paid service.
Massages and beauty treatments
Possibility of massages and beautician directly at the villa. Paid service.
Transfer
Transfer from and to the airport. Paid service.
Concierge
Possibility of booking restaurants, boat trips and excursions.
Laundry service
Laindry service. Paid service.
Check in & Check out
Arrival from 15 alle 20pm.
Check out at 11.30.
Cancellation Policy
30 days before arrival : 100% of the refund;
14 days before arrival : 50% of the refund;
Less than 14 days : no refund.
House rules
We will welcome you to the villa to explain all services of the house.
Minimum age  to book is 25 years old.
Animals are not permitted.
It is no possible to organize parties/events.
No smoking inside the villa.
Please communicate your estimated time of arrival in advance using the contact detailson the booking confirmation.
A security deposit of one thousand euros in cash is requested upon arrival. Deposit that will be returned on departure in full after a verification of the condition of the house.
You have any doubts
Contact Us
Information
Places of interest
Supermarket 1km
Bar 1km
Pharmacy 2km
Natural Park of  Molentargius Saline 14km
Hospital Brotzu 18km
Football Stadium Sant'Elia 16km
Basilica di Bonaria 17km
Via Roma , downtown 20km
Archaeological museum Nazionale di Cagliari 18km
Restaurant
Tegamino Bianco 1km
Pizzeria Su Meriagu 2 km
Da Marino al Saint Remy 20km
Duanima 20km
Steak House "Jope" 15km
Arkè 16km
Beaches
Poetto beach 10km
Mari Pintau beach 15km
Torre delle stelle 17km
Villasimius 25km
Costa Rei 35km
Excursions
Dinghy rental 500m
Trips on a sailboat or motorboat 500m
Adventure
Possibility of horseback riding or dune buggy 10km
Bars & Lounges
Caffè degli Spiriti 25km
Piazza Yenne centro città 25km
Lungomare Poetto 10km
Shows & Entertainment
Cinema Multisala LE VELE 15km
Teatro Lirico di Cagliari 25km
Bowling LE VELE 15km
Sala Giochi LE VELE 15km
Shopping
Centro Commerciale LE VELE 15 km
Vela Shop 20km
Centro Commerciale LA CORTE DEL SOLE 35km
I RUGGERI 22km
Studio Moda Group fashion for lady 22 km
La Rinascente 25km
A dream vacation! Starting from breakfast whit a breathtaking view to the salt water pool whit a real wellness program, to end whit a hot water whirlpool at sunset whit an exceptional view. Recommended experience ( sourec airbnb ).
The pool and outside area was lovely, whit the gate exit directly to the beach giving immediate access. The facilities were great and the outdoor cooking area worked very well. A wonderfoul place to stay !! I would certainly recommend ( fonte booking ).
Awesome place. It is a great villa in a quiete area, whit view and access to sea, wich is very good ( fonte booking ).
Perfect vacation in perfect place. We stayed in this beautifoul villa on the beach for 1 week. The villa is very nice designed and furnisched. There are everything you need for perfect vacation whit kida. It is exactly as shown here at the photos. We loved very much direct access to the fantastic turquoise sea ( 2 – 3 steps from the fence door ) and the spectacular view over the sea from terrace. Observing night sky from the terrace is also unforgettable ( source VRBO.com ).
A dream vacation!
Book our villa for unforgettable experience
Capitana, Quartu Sant'Elena (CA) 09045
FILL OUT THE FORM
WRITE US